Fleeing Gomorrah, and not lookin' back.
Well, maybe not that last one.
But the point is, my husband and I are off on a "business" trip for three days to Oregon, where he is going to look at exciting things like plants, while I do really exciting things like visit my version of Graceland.
And we're taking a truck.
Please pray for my parents, who will be tending our four mostly housebroken boys while we are gone.
Nah, my folks will be fine because my boys really are pretty great, especially if you give them cookies. (Just not after midnight... you know, that whole gremlin thing)
The other day Greyson and Rowan (ages 7 and 4) were just going at it.
If they were in the same room, chaos erupted within seconds. It was driving me bonkers.
I finally said to Greyson, "Grey, you can't control your brother, but you CAN control yourself. So as far as it depends on you, try to get along."
I didn't even think he was listening, but he stopped in his tracks and he said very quietly, "Hmmm, I can't control my brother.... but I can control myself. Wow. That is really good advice, Mom. Thanks."
Moments like that are what remind me how rewarding this insane parenting carnival can be.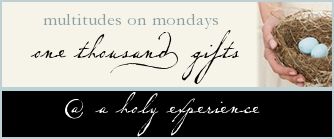 Summer planters redone for fall with kale and pretty lettuce
Fog slipping over golden wheat fields
Half gallons of homemade cultured buttermilk
Being able to cut all their hair myself
Soup night with fresh bread
Two sets of loving grandparents
Rides on Papa's 'scooter'
Picking apples in the rain
Deep breaths of cold air in the middle of the night
The opportunity to go somewhere, just the two of us, and remember what being together feels like
Dreams that wake us for a purpose and open dialogue, dialogue that brings confession, confession that brings repentance, repentance that brings healing, healing that brings restoration, restoration that brings joy.