Anybody know what that means?
Is it a weird form of cowboy slang, like if you say "how do you do" really fast it comes out as howdy?
But that is neither here nor there.
Today, as you know, is 'Fess Up Friday; but, I'm changing it up!
I had a surprisingly low amount of brain-dead moments this week (go me!), but it was still eventful.
So, rather than 'fessing up, I'm joining in for InstaFriday over at Life Rearranged.
But never fear, my funny friends, if you are here to 'Fess Up, I'll still have the linky party at the end of this so we can all laugh at your mishaps. I do enjoy them so.
We started the week with an urpy 2-year-old. He had a cold and I think he ate a bad hot dog (which is an oxymoron... have you ever met a good-for-you hot dog?), and the combination made for midnight mayhem and lots of laundry.
The next day we had to wash his puppy, and he just stayed in the hallway for the whole hour until it was done.
Once his puppy and his blanket were dry, all was well.
Doesn't he look sweet?
Don't let him fool you. By the next day he was on the mend and once again throwing cars at my head.
I helped my dad put a flag pole on the front of his house.
Ten years ago he had a stroke and lost the use of his right arm, so when I stop by for a visit I frequently get put to work with a power tool or a ladder, whether I know how to use them or not. This time I didn't fall off the ladder or drill extraneous holes in his house, so everyone was happy.
This week was also about my second born son.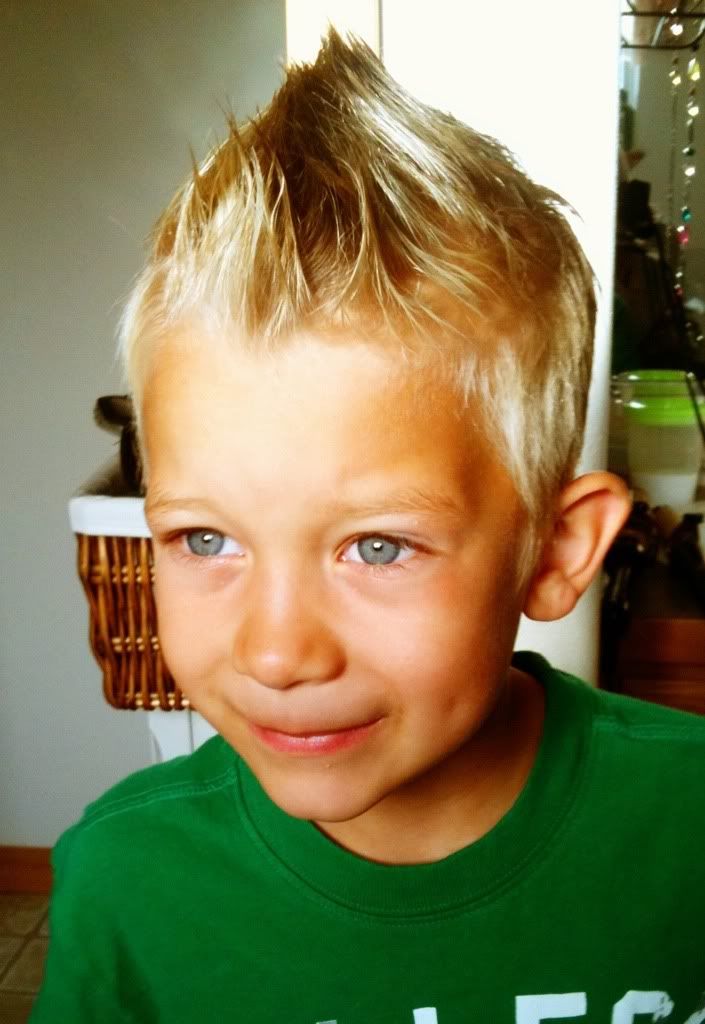 Who was having a birthday.
The boy with the dimple in his left cheek.
The boy with a belly laugh so infectious it should be bottled and sold like fizzy lifting drink.
He is small and skinny and often in a world all his own, but oh so smart.
For the last three years, he has provided more funny quotes than all of my other kids combined.
He doesn't intend to be funny, he just is.
If you ask him what he wants to be when he grows up, he will tell you that he wants to be a tornado survival guide. He has a whole plan involving a metal body suit, like a knight, and taking groups of people out to a field during a big storm so they can watch him get sucked into the tornado and thereby learn what 'not to do.'
Either that, or he wants to work at Target, because according to him if you work at Target you make a whole lot of money.
While I know he would be safer at Target, I kind of want him to be the Tornado Survival Guide.
He's in first grade and is learning to read, slowly but surely.
He says 'Um, excuse me' every time he speaks, whether someone else was speaking or not.
He is a confusing mixture of quiet and shy with occasional outbursts of flamboyancy that disrupt the class and land him in detention.
I can't quite peg him down.
All I know is that he melts me.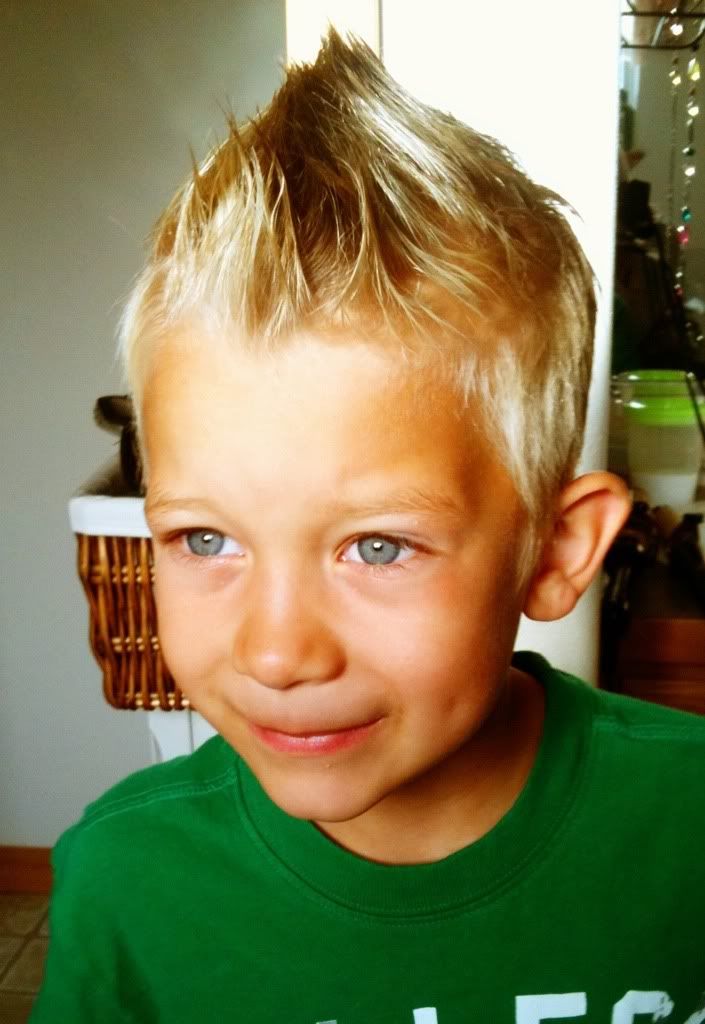 For his birthday, there was a special breakfast of Dutch oven pancakes with powdered sugar and lemon.
And I stayed up late the night before making clown cupcakes for his class, because he believed I could do it, so I had to.
I don't know if they really looked like clowns, or more like weird octopuses in little hats, but he liked them nonetheless.
In the evening, after school, we had our traditional dinner out with just the birthday boy.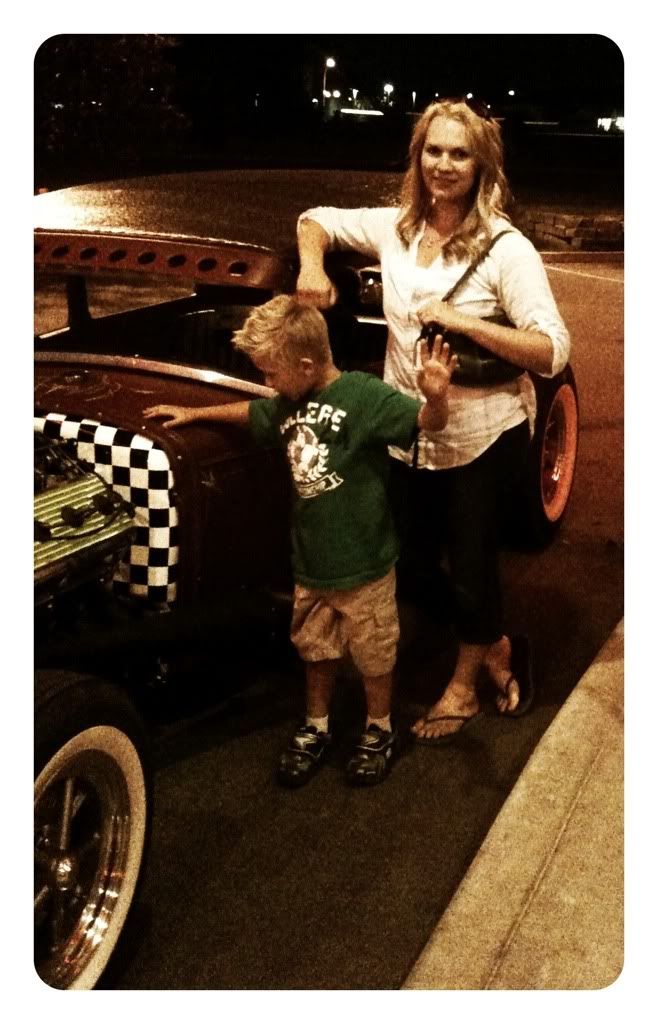 We took him to restaurant in town that has a 50's theme, complete with old hot rods and juke boxes and a kid's meal served with french fries in a paper Cadillac.
He sat by his dad
And he cheered when a special dessert arrived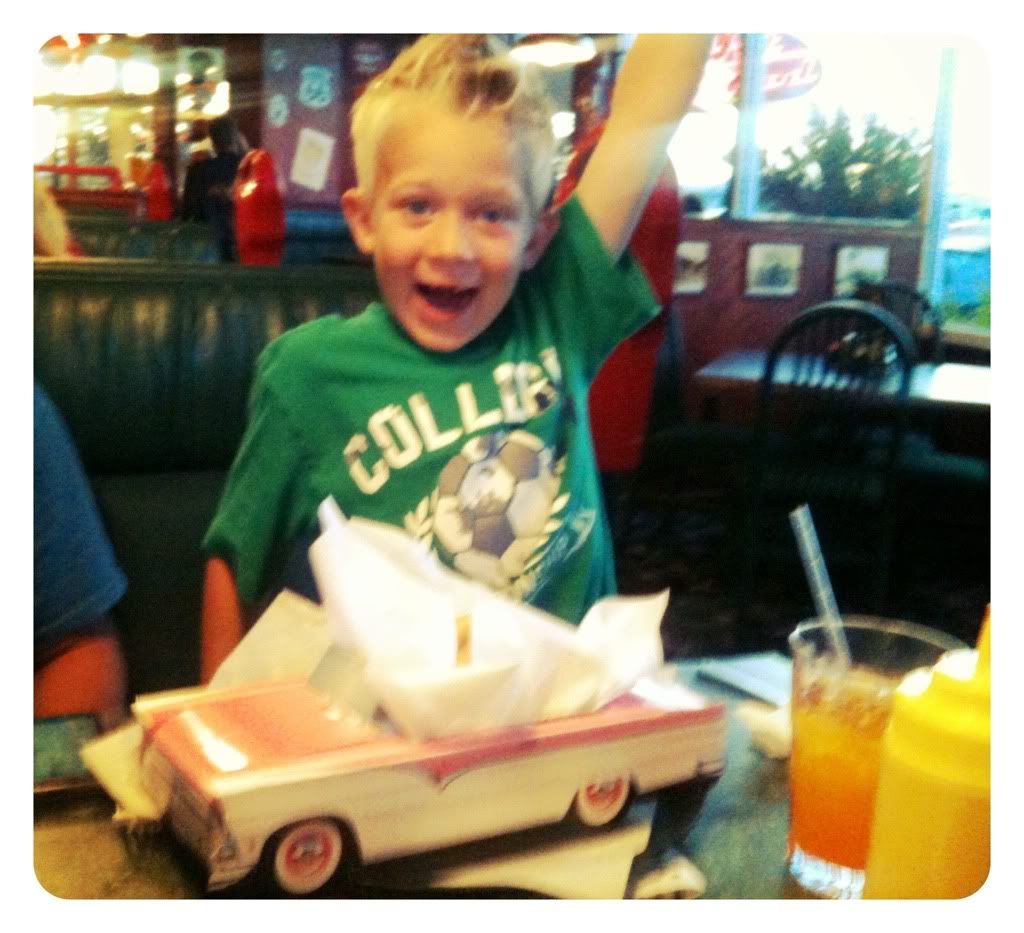 A butterfinger sundae, thank you very much.
And when the waiter told him to come back on his next birthday, Grey didn't hesitate before spouting off,
"September 21st, I'll be here!"
That kid cracks me up.
If you want to recap your week with cell-phone photos, pop on over to Life Rearranged for InstaFriday.
OR,
if you're up for keeping it real and laughing at life, I'd love to have you link up here for 'Fess Up Friday.
And seriously, if you know the origin of the word 'howdy' please let me know.