I've been thinking lately about that word.
Grace.
I tend to use it so flippantly.
"Oh, God's grace is so good."
"We must have grace for one another."
What does that word really mean?
One of my sons asked his grandmother this question, and she answered with no hesitation.
"Ah, grace.... it means undeserved kindness."
I know that is not the only definition, but I like this one because it's so simple and yet so profound.
It's easy to plug into all those sentences I've been tossing around.
Oh, God's undeserved kindness is so good.
We're saved by His undeserved kindness.
We must have undeserved kindness for one another.
It's helping me digest the verse God dropped in my heart when I was praying about my boys and how to deal with them.
"Let your speech be always with grace, as though seasoned with salt, so that you will know how you should respond to every person." Col 4:6
I love that verse.
But what does God mean when He asks me to speak to people with grace and salt?
What's the practical application when just about 'every person' I encounter in a day is less than four feet tall, looks kinda like me, and has the attitude of a rhinoceros?
I plugged in my mom's definition of grace, and it suddenly made perfect sense.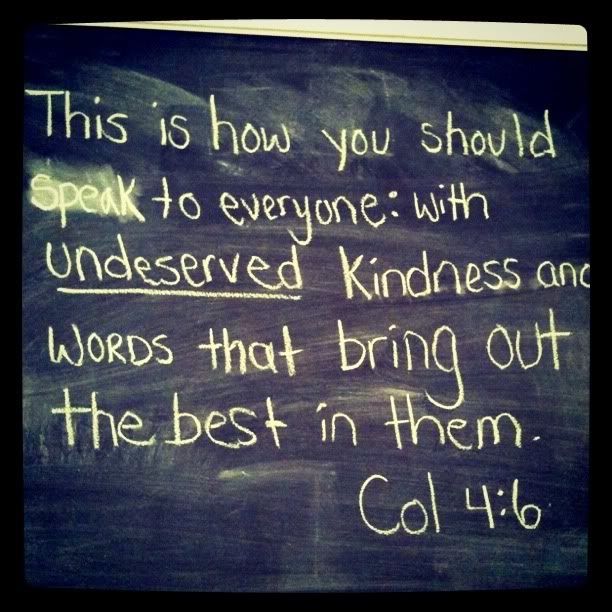 I don't claim to know how to exegete scripture, and it's not an official translation, but it's laymans terms that I can understand.
So I wrote it on our kitchen chalkboard; for my boys, yes, but mostly for me.
Because I want to take hold of that, to really let it sink in and change me, to see the fruit it will bring in our home.
I want to speak to them with undeserved kindness, to always bring out the best in them with my words and to speak life, because that is what He does for me.
Every. Single. Time.