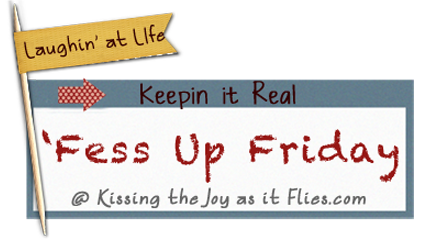 So my friend Melissa from A Time For Everything (whom you should visit because she just posted about making the cutest ruffled purse ever) linked to an article on Facebook today.
The article was called "How to Survive the Age of DIstraction" and was all about how the internet and being 'wired' is affecting our society. The main point he was making was about the death of books at the hands of e-readers, but the particular nerve he hit with me regarded the internet and how addictive it has become and most of us don't even know we are addicted.
I'd already been thinking about this because Kari from Stone Soup for Five pointed out several weeks ago that the computer is melting my brain.
So I made a bold move.
I downloaded this program called "Freedom" which turns off your internet for however long you tell it to, giving you 'freedom' to work without distractions.
Really? It has come to this?
I have to download a program to turn off my internet so that I will not randomly check my email every time I'm waiting for a program to load?
It's a sad day.
The saddest part was that 10 seconds after I told it to give me three hours of freedom, I tried to log in to twitter so that I could tweet about how I was giving up the internet.
And then later, I couldn't get it to shut off, because I guess they don't count any time that the computer is sleeping. It's only 'active' time when you're actually using your computer.
I had to reboot and everything just to get freedom from my Freedom program.
You guys almost missed 'Fess Up Friday because I'm trying to survive the age of distraction!
I'm going to need a support group.
.
.
.
.
.
In other news, I have been kind of on a diet this week.
My poor friend Selina has just about fired me as her accountability partner, and I don't blame her. She told me today that she might eat dessert at an event she was going to, and my response was, "Oh good, do it so I can go to Starbucks!"
I would fire me too.
But in my defense, I offer exhibit A.
That is the salad I packed to take to the beach today with my boys, instead of eating a delicious turkey sandwich with the rest of them.
And when I realized I had forgotten to take a fork, was I deterred?
Did I cave in and snag bites of my children's food?
Nope.

okay, but only a little bit
I ate my salad on the beach with my fingers like a chimpanzee.
So that should count for something.
.
.
.
.
Remember the bike we borrowed last month to take camping?
I've been trying to figure out how to give it back ever since. My mini van is only so big and I couldn't get the wheel off to scrunch it in the back.
Pretty sure this might be illegal, or at least frowned upon by safety-conscious folk, but I did put a thin and flimsy towel between B's feet and the spokes.... you know, to cushion him in case the bike fell over in transit.
.
.
.
.
.
A few weeks ago I somehow managed a trip to Old Navy by myself.
Seriously, when does that happen?
When I was checking out, there was this cart filled with brown paper bags that said "8 shirts in Boys Size L, over $140 value for only $20!"
The line was pretty slow going so I stood next to that cart for a very long time and mulled it over.
Eight shirts, huh?
But I don't get to look inside the bag first?
Hmmmmm.
Oh wait, there's another lady scoping out that same bag and there's only one left.
I better snag it before she does.
Would you like to know what they do not tell you about the eight shirts inside the brown paper bag?
Three of the shirts are the exact same (rash guards for swimming... coulda been worse!) and one of the shirts would never have made it into my house if it hadn't hitched a ride in a discounted mystery bag.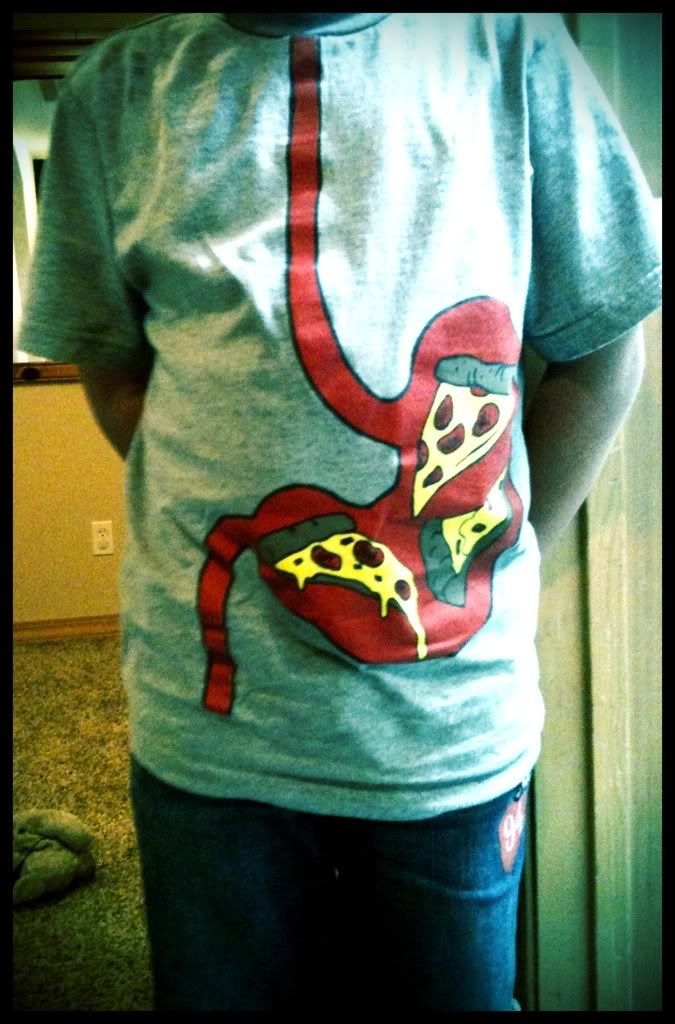 My vote was for throwing it away, but it is, of course, Haydn's favorite one out of all of them and he wears it several times a week.