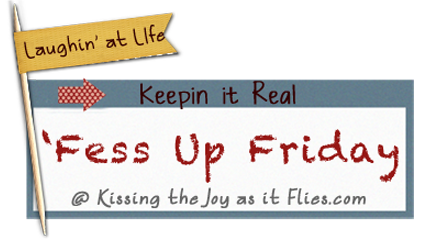 What's that Jarrod? Your day-lilies are all smashed in the middle?
Weird, I have no idea how that happened.
.
.
.
Sometimes I find my flower water full of googly eyes.
It's better than the time I found a grasshopper in my bed.
.
.
.
.
I really enjoy listening to books on tape or music with my iPhone while I do chores.
I didn't think my kids had noticed this until Haydn came around the corner ready to do his chores dressed like this.
That's a dog leash (for our non-existent dog) tied around his waist and his Nintendo DS hung over it so he can listen to the theme music of his game while he cleans. I was absurdly proud of his ingenuity.
This was also the day that I discovered that my blog is no longer a secret place where I can post embarrassing pictures of my family and tell stories about them.
Up until then, I didn't think my kids even knew what a blog was.
But when he saw me with my camera, Haydn awkwardly posed and said,
"Hey, mom, are you going to put this on your blog? How does this one look?"
Stellar, Haydn. It looks stellar.
Do you want to know the absolute worst place you can take four kids?
Costco, two days before a major national holiday.
Guess who forgot that rule and took her kids there on July 2nd?
If you thought this was a random picture I used for illustration purposes, you would be wrong.
I told them to get ready to go, and this is how they came back.
Two gangsters, Spiderman, and the Pillsbury Doughboy in jammy pants and snowboots.
I took one look at them and said,
Even with the stress of 4000 other shoppers in the store, my boys were a.maz.ing.
Someone told me they were the best behaved children she had seen in the store.
It's possible she was just distracted by Spiderman's bulging muscles.
You want to know a fun game?
Squirting whip cream in your kid's mouth, only missing their mouth and getting it on the skin just under their lip.
And then watching them try in vain to lick it off for several seconds before they get creative.
Creative, like smooshing their face against the slider door to get the whip cream onto the glass, and then licking it off.
Not only did I watch this unfold, but I photographed it happening.
I'm pretty sure that window dirt is really good for the immune system.
It's also good for the window, kind of like a snail in a fish tank.
Another fun game is to try and figure out what your child is telling you when they follow you around with the cereal box.
Sometimes it's really tough and takes me a while to guess.
Okay, that's all I have for this week. If you have a confession, I would love to hear it.