Haydn told me all last week that just this once, the mail was going to come on Sunday.
I was sure glad it did, because this card made my day.
Translation: Halelujah!
"Yah, I took your sins and ow wow, this hurts dude!"
Dear Mom and Dad, Happy Easter, I hope you have a great most fantastic day for God has risen. You are the best parents ever.
And just to make sure the Easter Bunny was not left out, he was included on the back of the card, checking out Jesus' empty tomb. Maybe we are confusing the poor boy.
Which leads me to Multitudes on Mondays. I missed my post last week and I was sort of bummed about it, but I want to be looking for God's hand and the gifts He gives every day, whether I tell someone about it or not.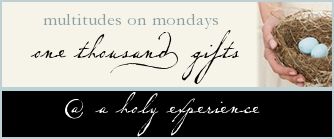 #79 Little boys who love their Papa and don't care that he had a stroke. To them, he's always been this way, and it's just fine.
#80 Sitting in a chair with the sun on my hair
#81 Smelling freshly baked cookies when I walk in the door, warm and ready to eat, and I didn't make them
#82 Haydn putting the baby in his carseat for me and helping to buckle his brothers
#83 Wrapping up in blankets, snowflakes on my eyelashes, watching the first of many Little League games
#84 Pinterest!
#85 Human Planet... the awe and humility it inspires, how small it makes me feel
#86 Blue, blue sky~ I missed you so
#87 Greyson... so smart, so spazzy, so sweet
#88 Soaking my feet, listening to the laughter of my friends, warmth on my back
#89 Sparkly coral toenails
#90 Rowan pops around the corner, lights up, and says "Whaat? Chicken nuggets?! That's what I'M talking about!"
#91 The toddler running, arms up, calling "Mama, huggie huggie, squeezie!"
#92 little boys playing in a maze of evergreen trees while their daddy works
#93 Quick diagnosis, medicine given, healing on its way, strep throat not so bad as I feared
#94 The notebook in the mail, tangible gift of time, treasured