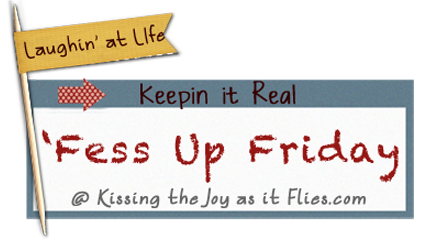 Dude, has anyone else's week been completely monopolized by boring stuff that you accidentally volunteered for? I keep saying "Oh that's no big deal, I can do that!" and then before I know it, I've volunteered myself for a bazillion little things that cumulatively suck up my
few precious minutes of mental alertness
free time. Which really means: no blogging for me.
Boo-to-the-hoo.
Oh well~ no more whining, I'm so excited it's Friday. No carpool today, and it's time to 'fess up!
Every time I take a week off from blogging I get new followers. It's like paid vacation time, which is awesome, but I'm not sure what ya'll are trying to tell me.
I watched

Eat, Pray, Love

yesterday and there was a line in it where a lady says, "Having a baby is like getting a tattoo on your face. You kinda want to be committed to the idea." If I got nothing else from the movie, that line was worth the watch.
Remember how I told you last week that my son started Little League? Well, besides the

special underwear

, he also got this uber cool new hat. I did not tell him that it pushes his ears down and makes him look like Yoda. I did think it though.
Greyson had an accident of some kind this week, which either involved a very small motorcycle driving up his nose or a swan dive off the couch into the carpet.
The next day I did a double-take and said "Whoa, dude, what happened to your face?" He says "I'm a dinosaur who got shot in the nose."
What happened at the grocery store was really my fault. On our way there, I pulled the car out into traffic and Rowan yelled "Goodbye Suckers!" If I had corrected him then instead of stifling a laugh, he probably wouldn't have later called out "See ya, sucker grandma!" to a little old lady we walked past in the store.
I made a very healthy dinner of baked salmon, quinoa, and steamed cauliflower. Then after the kids were in bed, I ate four cookies. It happens.
My husband's name is Jarrod. Sometimes I call him Jerry Berry Pumpkin Fairy. He does not find this quite as amusing as I do, but I think that's because he hasn't come up with an equally splendiferous nickname for me.
I'm really hoping that in a few years everyone will look back on skinny jeans with the same horror we reserve for hammer pants.
I found a picture on my camera of the underwear I left on my bathroom floor. I stared at it for a while, trying to remember if I took such a weird photo. Then I started accusing my children of playing with my camera. After profuse denials, I finally called my mother, who had been babysitting at my house, and asked her if she took a picture of the underwear in my bathroom. With a little giggle she said "Oh yes, I took that picture." Ummmm.... do I dare ask why, Mom? "Because I thought it would be funny to have a caption under it that read 'oooh la la'." My mom is now banned from my bathroom forever. And no, you can't see the picture.
You guys probably know the drill by now: if you want to play along, click on
this link
to grab the 'Fess Up Friday button and then come link up with me. It would make me feel a lot better to know that someone else's three-year-old trash talked an old lady in the store.