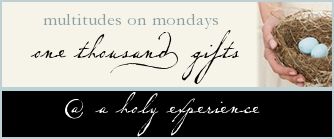 Jesus, today I am thankful
15. For babies, who are no longer really babies, speaking words to me. Real words, real thoughts, but spoken with a little baby lisp. "Yeth, Mama, eat, eat!"
16. For remembering suddenly to look into Little League and discovering that TONIGHT is the last night to register. Try-outs are tomorrow, and I didn't fail him.
17. For the
Jesus Storybook Bible
on sale this weekend, which is ministering to me more than any sermon as I read it to my boys.
18. For friends reading
One Thousand Gifts
alongside me.
19. For changing my heart and giving me direction about where I'm supposed to be serving.
20. For friends who have cows, and fresh milk
21. For homemade buttermilk made from that milk
22. For internet recipes
23. For blog comments that make me laugh
24. For baby Brielle, whose name means 'God is my might' and sounds like a breath of heaven. Desperately missed. Her life was not in vain.