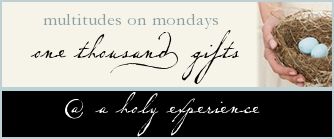 "Gratitude bestows reverence, allowing us to encounter everyday epiphanies, those transcendent moments of awe that change forever how we experience life and the world." ~Sarah Ban Breathnach
So I've been reading
this book
. The one that the "Multitudes on Mondays" blog hop is based on. I'm not reading it quickly, I'm taking small bites and chewing them slowly. In the book, she talks about this Greek word eucharisteo, which is the word that is used when it says that Jesus took the bread and gave thanks. He gave
eucharisteo
. It isn't just "thanks"~ it's thanksgiving sandwiched with
grace
and
joy
. This is the type of thanksgiving He gave when he was just hours from death.
This is the type of thanksgiving that transforms lives.
I like starting the week with this....
eucharisteo
.
A baby girl found in the rubble, alive and unharmed
A six-year-old boy leaps out of the car haphazardly, tugging on his backpack, struggling to pull open the door to the school, and then he turns suddenly with a big smile and waves to me enthusiastically.
A toddler who is learning his animal sounds but never gets them right. When asked what a horse says, he will growl like a bear or let out a very high pitched "EEEEEEEEEEE-meow"
Making a new friend through my blog
Learning about being a disciple for three weeks in a row
Hope~ real hope~ for my church
A husband who took six boys rollerskating by himself and let me stay home with the littlest ones
My St. Patrick's Day baby who is now nine years old
making progress on the website for my husband's business, which required me to learn several new things
a spice cake made just for me
a gallon of raw honey for a good price
an increase in my faith when I heard about a family in our church who is going to Japan in three days, just like they were scheduled to do since before the tsunami and earthquakes struck
the promise that if we will speak His word, He will follow it with signs and wonders, and if we will cast the net, He will fill it with fish