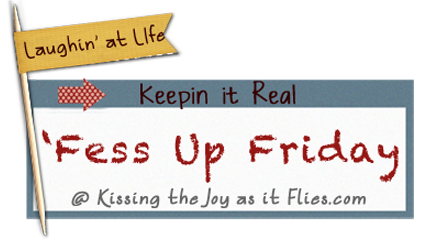 I can't be in the same room with an accent and not pick it up. I have to control this in public because it's obnoxious, mate.
I took two of my boys to the dentist this month, and between them they have ELEVEN cavities. For as much as it's going to cost to fix these BABY teeth, the tooth fairy better leave some serious bank when they finally fall out.
I read the forwards people send me, but I have a pretty strict trial basis. If the first one you send me is lame, I will probably delete everything else you send me... forever. Sorry.
I've never understood what the big whoop is about butter. Pioneer Woman is always yammering on about how butter makes everything better, blah blah blah. Then the other day I felt a little sassy so I picked me up some salted butter and made some fresh bread. Up till that point I'd only ever used unsalted. Conclusion: HELLO, little yellow friend, where have you been all my life?!
My friend Jennifer and I were talking this week about chewing our nails, and I realized there is a direct correlation between the state of my fingers and how much blogging I do. Apparently I have time to either paint my nails or write a post, but not do both. The year I only wrote 29 posts, I had the best, most-polished nails of my life. Nowadays.... yeah, let's not talk about that.
I bribed my three year old into taking a nap by sending him to bed with a tootsie roll. I thought it would be our little secret, but tonight at bedtime he pipes up with "Daddy! Mama lets me take naps with CANDY!"
I overheard that same three-year-old telling Jarrod that he's afraid of the dark. While Jarrod was soothing him and saying all kinds of nice things, I was thinking to myself, "Yeah, well, I'm scared of sloths... we all gotta deal, buddy." For real though, sloths have to be the creepiest thing in existence. You know why? It's because they would move so sloooooowly as they chase you through the forest. Slow and steady wins the race and all that.
If you're 'fessing up this week, grab a button for your post and leave me a comment with the link so I can come visit. I love Fridays because I get to hear your confessions too :) Adios, amigas!