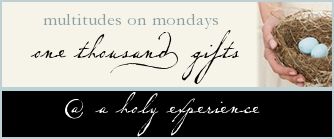 You remember that scene from Office Space where he's sitting in his little cubicle and that lady walks by and says "Uh oh, looks like someone's got a case of the MONDAYS."
I'm tired of having the Mondays. Of grumping and groaning and feeling discouraged because the merry-go-round is starting again.
My friend Melissa recently turned me onto a blog that is new to me called "A Holy Experience," and all I can say is that reading it truly feels that way. Like my heart expanded just in the short time I was there. You know that full feeling you get when God breathes something into you, inflating you a little more, increasing your buoyancy so you can ride a little higher through life's waves? That is how her blog made me feel.
She has inspired me to start conquering Mondays by marking it with moments of praise for all the things my Heavenly Father has done and is doing in my life. My 1000 gifts starts here.
1. Blogs that bring meaning to my life, encouragement, and inspire me to stop walking my way through the race and to press on.
2. Parents who will come and stay the night at my house with my four little boybarians so J and I can attend a conference.
4. Snow swirling outside while I am safe and warm
5. The sound of my husband resting so deeply, I can hear him snoring down the hall
6. Playing a game with Haydn, and the smile on his face
7. Reading a story to Grey while he wraps himself around me like a lemur
8. Green paint in the bathroom
9. Tim Kimmel and Grace Based Parenting
11. A counter full of dirty dishes, because we ate today
12. A three-year-old who managed to get his toothbrush stuck inside the motor of my treadmill. That took skill.
13. elderberry tonic for my little sickies
14. Water on dry ground. A trickle that wets the dust, becomes a stream, and carves the way for floods. I've been dry for a very long time.
Were you afraid I'd post all 1000 today? Baby steps, my friends. If you want to be blessed, or to participate in Multitudes on Mondays, click the button at the top of this post.
Happy Monday :)