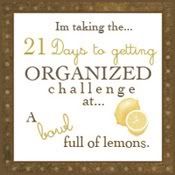 Part of me was terrified to post that. What am I committing myself to? Actually having to walk that whole
"I long to be organized"
talk from last week?
I'm a little skeered, but if she can help me with
this
gorgeous mess, I'm willing to tag along.
Sorry, kids, that means you're going to be seeing a lot of scary stuff on this blog for the next 20 days. Hopefully there will be After pictures that erase your memory of the Before.