Tonight I'm making one of my current favorite meals. With a little pre-planning, it's quick and easy when dinner actually rolls around.
Early in the day I get out my bread machine and throw in all the
ingredients for homemade pitas
and start the dough cycle. Seriously, if
I can make them,
anyone can. I still havn't managed to make these in advance and freeze them because we eat them too fast. One of these days I may tackle a double batch. I've made them about four times now, and the only tips I have are to follow the instructions carefully, keep the dough covered at all times so they don't get crusty while rising, make sure you roll them out to at least six or seven inch circles (measure them) and don't let them rise too long after rolled. Twenty minutes seems to work the best for me.
I found this recipe for
easy fast faux gyros
over at the Tasty Kitchen, and they rocked my world. A little sliced roast beef and the right seasonings in a hot pan and you've got gyro filling in minutes. I like to make some homemade
tzatziki sauce
because it's cool and creamy and delicious, but you can use ranch if you're short on time.
So first you season up your meat (I ran out of roast beef, but sliced turkey worked just fine!):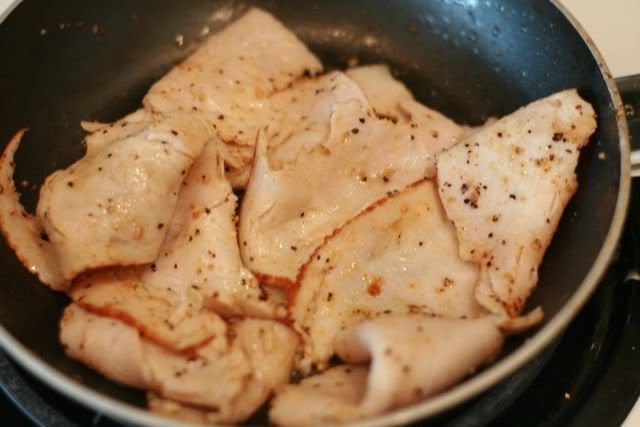 Then you take your pita. It's okay if it's a misshapen pita with weird creases, we do not allow pita prejudice in this house.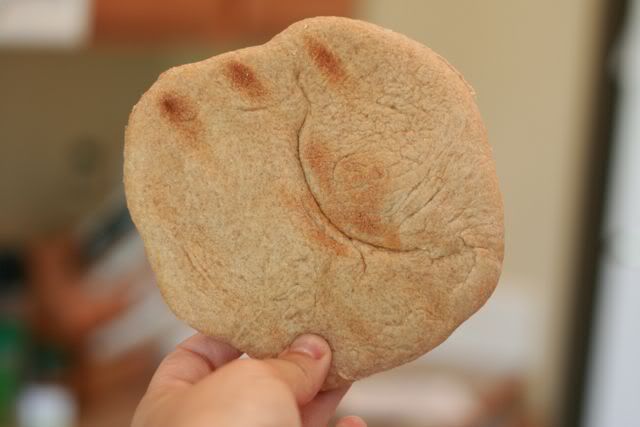 Slice the pita open on one end.
Warm it up for a few seconds in the microwave and then fill with your seasoned meat.
It's kind of fun to make a "build your own pita" tray with all the different toppings.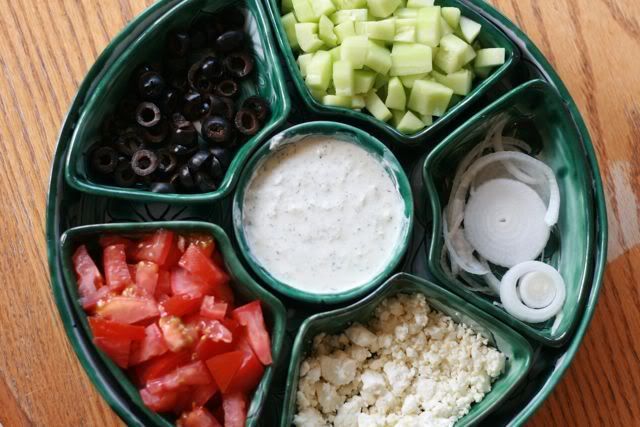 We did this with company one night and it worked out great. I was able to get everything ready in advance except for the meat, which takes less than 10 minutes. A side of corn on the cob and salad, and you're golden. I don't have a picture of the final pita, because I ate it.
But this picture is from the first time I made them, and should give you an idea.