Five years ago Jarrod gave me the go-ahead to paint the walls in my living room. I was really excited, and in typically-impulsive-Kira fashion I picked a color and bought five gallons of it. I was very sad to get it on the walls and realize it was only a slightly darker shade of white than what we already had. Not good at all. So Jarrod made me live with it for a long, long, loooooooong time before I could change it. I learned my lesson, yes sirree. Now I wait months and months and buy at least 10 sample colors before I paint a wall.
In January of this year I was lamenting the fact that I was afraid to paint and I didn't know what to do in my living room. My friend
Selina
piped up with the suggestion "You should do American Clay!" Uhhhh.... what's American Clay? "Well, it's really awesome... all natural... basically colored dirt you put on your walls."
Crickets chirping.
I can't even pick a paint color, and this chick wants me to put colored dirt on my walls? I don't think so.
But I went to the
website
anyways and started reading more about it, and this is what I learned.
"American Clay Earth Plasters are a natural, environmentally friendly way to finish any interior. Non-toxic and made in the USA, these plasters are an alternative to cement, acrylic and lime plasters, offering superior color, richness, texture and depth not found with other finishes."
Sounds awesome, but it's also pricey to have someone come in and do it for you. So when Selina (who happens to be a professional American Clay applicator lady) said that she would do the work if I bought the product I said "What the hay!" See, I totally learned my lesson from the paint incident.
Next thing I knew, we were in my living room mixing up a big tub of colored dirt... er, clay.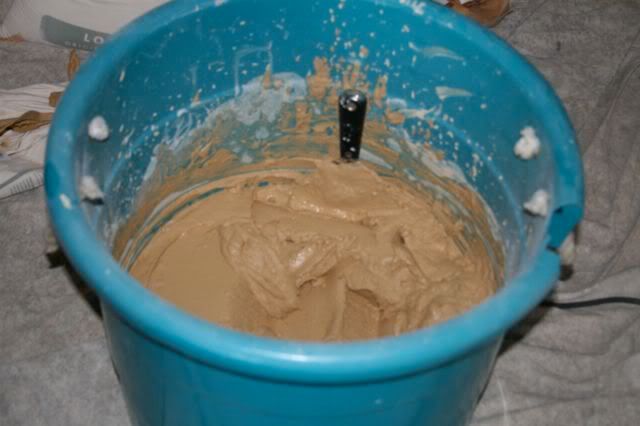 And then Selina just started troweling it on.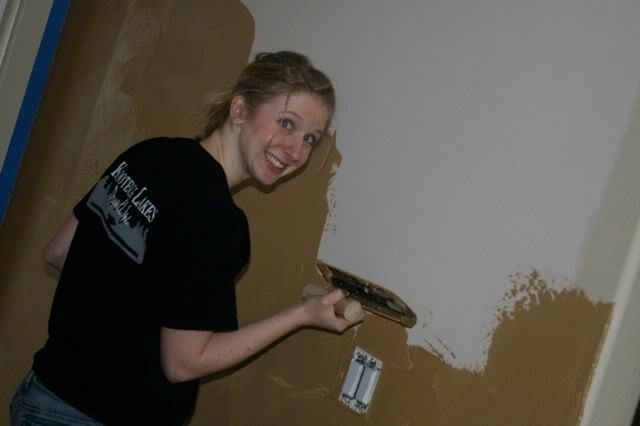 At this point, I was a little nervous because I was realizing that this was sort of more of a commitment than just paint. And I didn't have a good track record with paint.
But like a good interior designer, she kept confidently assuring me it was going to be gorgeous.
At the end of day one the clay looked like this, which is what color it is when wet.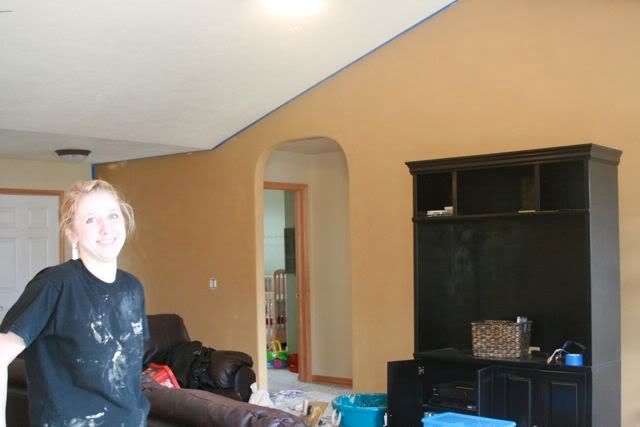 It didn't look like the color I picked out (Acacia), but I kind of liked it. So I was surprised when it started to dry and I saw how light the actual clay really was.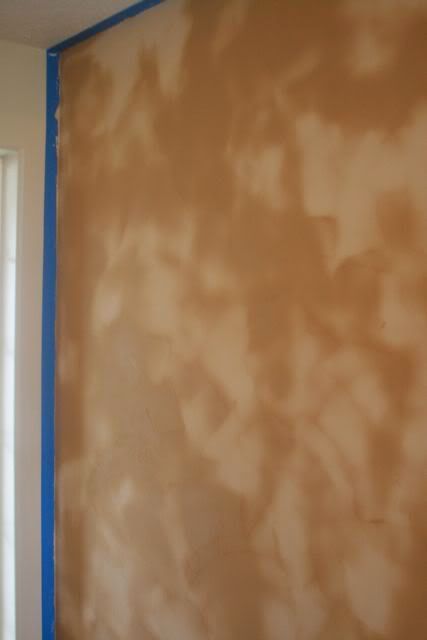 On day two, Selina came back and did another layer of clay (also Acacia) over the top, but used a "skip trowel" method this time to give it texture.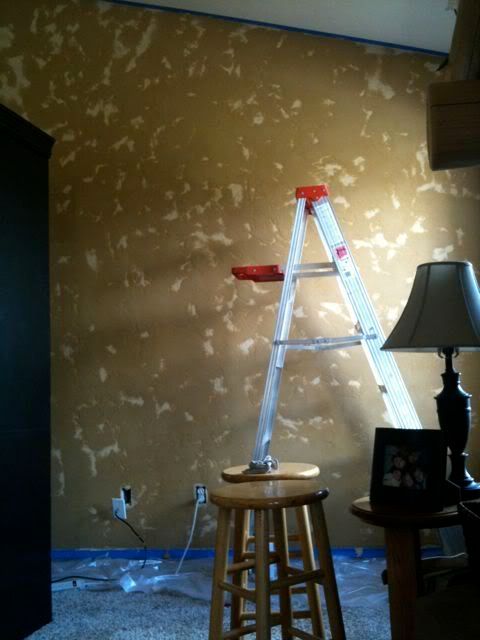 One of the things that I love about this stuff, is that unlike other plasters that are typically used for these techniques, American Clay is 100% chemical and toxin free. It "breathes" and absorbs oils from hands. If my kid writes on it with a pen, I can moisten the clay and work it back in with the trowel to hide it. But if he writes on my wall, he better be hiding when I'm done troweling.
On day three, Selina came over and started applying the "tea stain" glaze, which is what transformed the wall from "just heavy texture" to "old world beautiful." She used three different colors (Savannah Moss, Palomino Valley, and Tuscon Gold) to create the aged look.
It only took a few hours each day, but you have to let it dry between steps, so all in all it took four days.
And the final effect was better than I hoped for. Phew!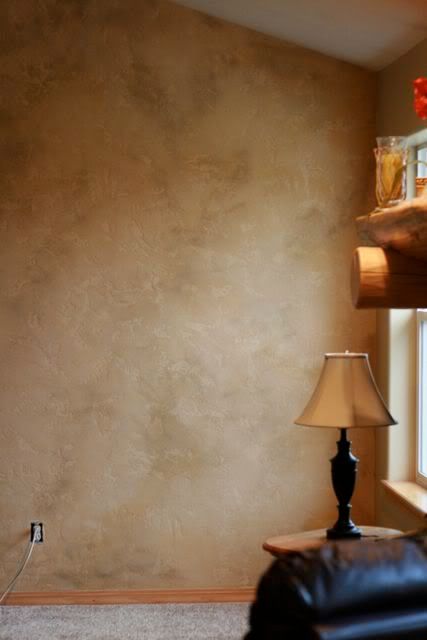 Lots of detail and depth on this wall, done completely with natural earth pigments and no use of chemical-laden plaster or dyes. She did a *fantastic* job.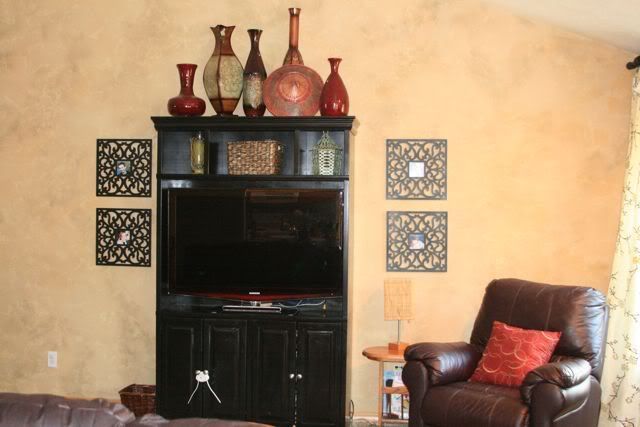 The color is off in this one, but wanted to show the final effect with everything back on the walls.
So anyways, why am I sharing this now? We did this project way back in March, right?
Because, my friends,
Selina
entered my room in the American Clay Makeover Contest and she won the GRAND PRIZE!!!
She won $1000 worth of American Clay product (which is exciting because she's building a house in March and planning to do clay throughout the whole thing). I'm so proud of her because I was there, and I saw how much time and effort she put into making this wall perfect for us. It truly is a work of art. One I never ever could have, or would have, done without her.
She also entered three projects in
another contest
, the People's Choice awards. #2 The Antlers is hers and is amazing! Feel free to cast a vote for her ;)
I just wanted to brag for a second, because my living room is a winner. Way to go, Selina, you earned it! (And now I don't feel so bad for only giving you a couple of flower baskets in payment)