I've been working on tagging my old posts. I've got 150 of 'em now, so I figure it's probably a good time to start... you know, before we're totally out of control. I came across a post that I started and never published from way back in the summer of 2008. It was almost like a little time capsule from the time when I was on the design team for My Kits and Pieces, a scrapbook kit club that unfortunately is no longer in business. Reading through it made me feel like scrapbooking, which I havn't done in far too long.
So here we go, a post from August 2008:
The girls from
Kits and Pieces
recently had an ATC swap and I got to help coordinate it. What's that? You don't know what an ATC is? Well, neither did I when I signed up to do the swap. ATC stands for Artist Trading Card, and while I do not consider myself an artist, luckily that is not a prerequisite for making the cards. Basically, you make a card that measures 2.5x3.5 inches, and decorate it any old way you want, testing out techniques, showing off your personality, or designed for a specific theme. You then trade them (obviously) with other people. Our theme for the swap was "Who you are and where you're from" Here are mine: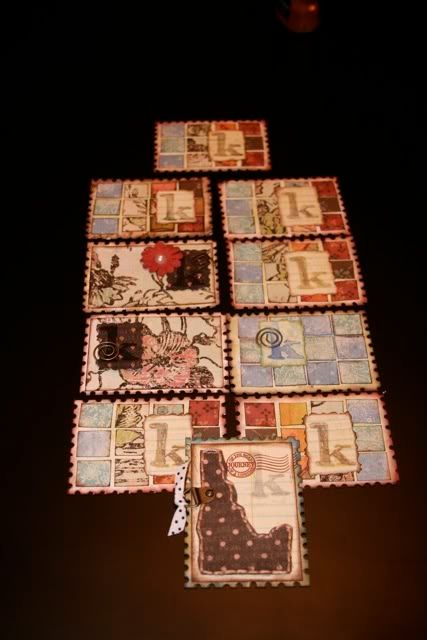 They are not all the same, simply because for the first three cards I still had no idea what I wanted to do and couldn't decide on a theme. I finally decided on this:
I made it look like a postage stamp, because I absolutely adore getting mail. That's probably why I love shopping online so much, because it means that I then get to expect a package. The four rows of different patterned papers are supposed to represent the four seasons, which we definitely see distinctly in Idaho. I didn't photograph the back but I used a stamp set that made it look like a little postcard. They were lots of fun, once I figured out what I was doing.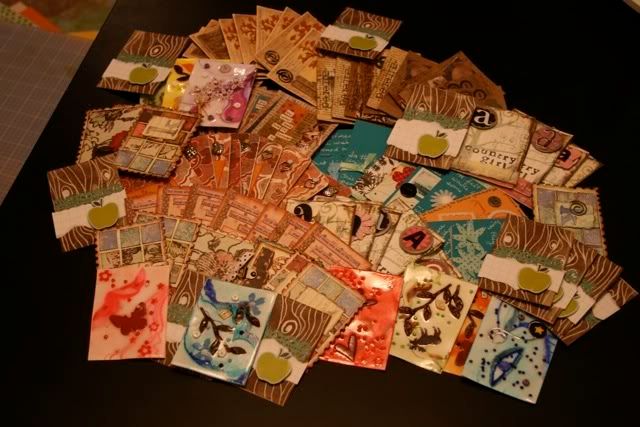 Here's the pile of 100 cards on my desk, ready to be sorted and sent out. It was so cool to randomly get these in the mail.
These are my sister's cards. I just loved that each one was unique and represented a different fruit of the Spirit. I wish the picture was clearer, because she hand-drew the design on each one and they were just so neat. I kept the red one that represented "Love."
And there they all are stuffed in my mailbox, ready to go. What a fun experience and I am so tickled to have a card made by each of my K&P friends, whom I've grown so close to over the last year.
~ So that was the post, and I'm glad I found it because I still have those ATC cards and every time I look at them they make me smile. Although I just noticed this post also has two comments on it already.... so now I'm confused. Maybe I posted it and took it down? Why would I do that? This is good stuff.